MuscleTech nanox9 next gen is a superior nitric oxide powerhouse that also delivers the performance booster beta-alanine and unique sensory effects compared to the other guys. It is the most energy and your best workouts and helps to enhance your pump, energy, focus, and overall mood. It doesn't contain stimulants.
MuscleTech nanox9 next gen price 2022 in Egypt
At Beauty Expert, MuscleTech nanox9 next gen is available for purchase for just 750 EGP per packet.
nanox9 next gen nitric oxide benefits
Improves muscle performance and strengthens muscles for bodybuilding.
Turn the food you eat into the energy you need.
Contains Nitric oxide that increases blood flow to the muscle and has great effects on muscle pumps.
Help protect cells from damage and regulate heartbeat.
Have the potential for improving learning and memory.
Helps you to relax blood vessels and causes the dilation of blood vessels.
Enhances the blood vessels and athletic performance.
Reduce your risk of various serious illnesses, including heart disease, cancer, and arthritis.
Increases serum arginine levels in your body.
MuscleTech nanox9 next gen ingredients
Main ingredients:
Beta-alanine: It is an amino acid that is often taken as a sports supplement. It can improve exercise performance and boost overall health.
Arginine silicate inositol: It's a dietary supplement and is used in the prevention and treatment of atherosclerosis.
Other ingredients:
Niacin: It is a B vitamin (vitamin B3) and is used to increase high-density lipoprotein (HDL) cholesterol.
Hawthorn.
Pomegranate.
Red Wine Extract.
Grape extract.
Rhodiola Extract.
Eleuthero.
How to use nanox9 dietary supplement
To assess your tolerance, take 2 caplets with water 30 minutes before your workout.
Once your tolerance has been assessed, take 4 caplets 30 minutes before your workout.
Do not exceed 4 caplets in a 24-hour period.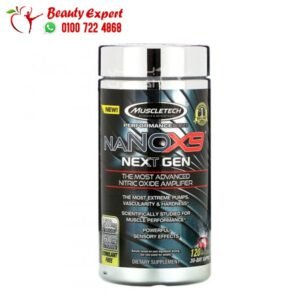 naNOX9 Next Gen side effects
It is likely safe for all people if the recommended dosage is followed correctly, but there are some side effects:
Tingling sensation in the face and skin.
Upset the stomach if taken on an empty stomach.
You can also like Muscletech Platinum Creatine
nanox9 next gen usage instructions
Read the entire label before use and follow directions provided.
is intended to be consumed by healthy adults 18 years of age or older.
Don't use nitric oxide supplement if pregnant or nursing.
Avoid using nanox9 next gen if you have any pre-existing medical condition.
Some individuals may experience a harmless tingling sensation from the concentrated dose of beta-alanine.
Don't use this supplement if you have had a myocardial infarction (heart attack).
The stated recommended daily dose must not be exceeded.
Don't use it as a substitute for balanced nutrition.
Keep out of reach of children.
You can also like Muscletech platinum l carnitine 500 Mg muscle recovery – 150 capsules
MuscleTech naNOX9 Next Gen review
One customer reviewed "This supplement has worked great to give me the muscle endurance I need to push through hard workouts, and I get rock hard muscle pumps which definitely helps me get an extra rep or two on all exercises. I like to take this with a pre workout drink as well to get motivated! Excellent product in my opinion!"
Ask about our MuscleTech nanox9 next gen offers at a special price and enjoy our best offers at Beauty Expert, by contacting us on the following numbers: